Senior living lead management is easier said than done. However, putting in the effort to create strong lead management is paramount to operators in 2023 as they strive to hit their marks and recover from occupancy lost from COVID.  
Recently, Shane Ness, VP of Sales at Bickford Senior Living, and Jeff Davidson, VP of Solutions Engineering at Serviam Care Network, gave new ideas to upgrade the industry's approach to lead management during the Senior Housing News Sales Summit webinar series.  
In this data-driven session, participants learned to master speed to lead best practices, how to establish themselves as a trusted advisor with their leads, and discovered the data behind a proven contact plan for more move-ins. 
Don't have the time? Skip to the highlight reel ⬇️ 
Incorporate speed to lead in your sales strategy  
"At Bickford, we are stressing the importance of speed-to-lead," Ness said. "There's a reason people are reaching out to us. We try to treat these as 911 calls. They need our help. They are in the right mindset for our help, so you need to capitalize on that moment."  
Speed to lead is the amount of time that it takes from when the lead comes in, to the first outreach, and is very important to senior living lead management. There are two paradigms of speed to lead; the inbound call, and form leads from 3rd party vendors and chats.  
Many senior living companies are measuring speed to lead in hours, but at the VIA Contact Center, we measure in minutes. Take a look at the graph below. If you call within 5 minutes, your contact rate is at 80 percent, at just 5 hours you're at 55 percent contact rate.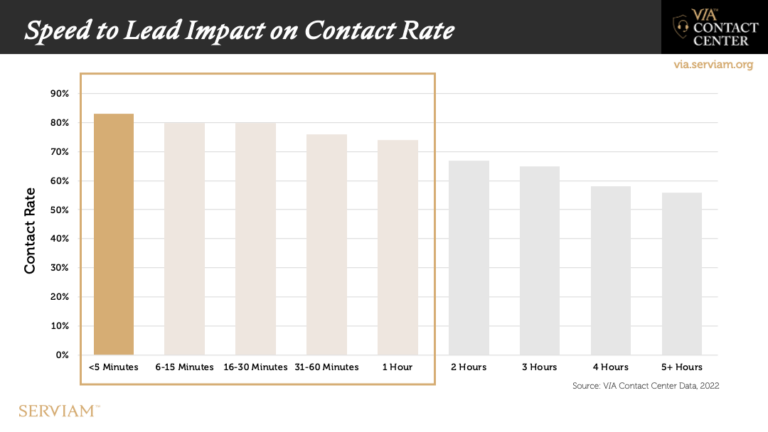 Senior living leads require more touch points  
The 7-day follow-up strategy  
"Making the connection up front is the first part of the follow-up strategy," Ness said. He mentioned it is usually an event that has prompted a family to reach out, and the 7 days following are the most important to get a lead to move-in.  
Ness said after the initial conversation, it's common for a prospect to start feeling guilty and pulling back. "There's an important seven-day period to get the proper information in front of the family and establish that, 'we're here for you.' At Bickford, we put together a dynamic contact strategy including phone calls, emails, and texts. Any form that will allow us to get in front of them. We even shift responsibilities. Sometimes it's our salesperson, sometimes it's our executive director. We've seen conversion ratios increase dramatically – our team is excited about it."  
Re-think lead management of your cold leads  
Senior living leads call a community all the time and say, "I'm just looking." The knee jerk reaction is to classify this lead as cold and call them back in three months. Ness said this is the wrong approach. 
"People don't go shopping in senior housing just for fun. Something prompted them to do this and it's our job to establish ourselves as the professional and dig deeper into the reason they are looking." Ness said, "I tell my team whatever timeframe they give you, cut it in half and odds are you can get them to move in within that timeframe." Ness said to give the necessary information so that they can make the decision now, instead of later during a crisis.  
Have a call persistency plan  
Uncontacted leads are the leads in your system that have come in from the form leads, 3rd party leads, and phone leads. It takes an average of 12 contact points to get those leads to tour your community. However, our data shows that the average salesperson gives up after 3 attempts.  
"One of the dances of lead management is finding the balance of persistence. You want to follow up, but not be so persistent that you get people to shut you out. The spam tagging that happened with emails two decades ago is happening with phone calls now," Davidson said.  
"The overall answer rate is around 40 percent for the first call. However, even at calls 16-20, they only pick up two percent of the time, but half of those people are ready to have the next step conversation," said Davidson.
Davidson said leads 0-90 days old still have value and can be ready for the next step, they just need more touchpoints and a dedicated call plan.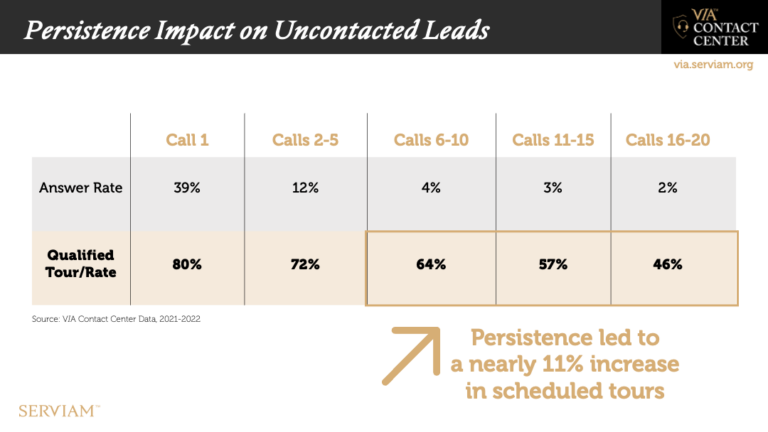 Run Cold Lead Campaigns  
"At the VIA Contact Center, we also execute cold lead campaigns. These are leads that have been in your CRM for 9 months plus with no activity," Davidson said. Davidson remarked that many operators will have C&D leads in their system for more than six months, without any sales contact whatsoever. Those leads are given to the contact center to make outbound phone calls and re-engage the lead.  
"We find with a three-call cadence over two weeks, we can make contact with 40 percent of the cold leads. Of those contacted leads, 25% schedule the tour or connect with the sales team for a deep discussion," Davidson said.  
Senior living lead management in 2023 will mean thinking outside of the box, however, sales leaders willing to put in the work to nurture their sales pipeline and create more touchpoints will win in occupancy. Watch the full webinar here for a deeper understanding of lead management in 2023.